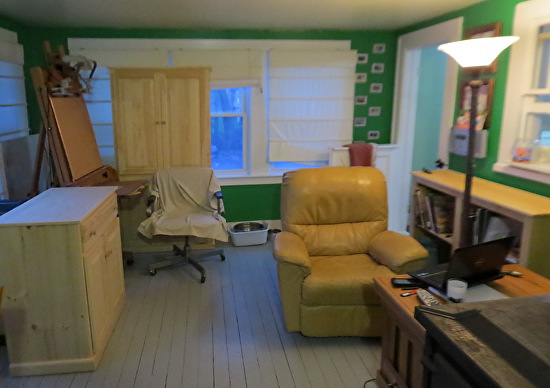 Here is the my art studio in my family room. You can see my large easel in the corner.
I have purchased unprimed wood cabinets on either side to store art equipment. I can
use the top of the shorter cabinet on the left to hold a large palette. There is a drawer to
hold this palette when I am finished painting for the day. This will prevent any flying dog
hair from getting into my oil palette! I have a nice leather recliner I purchased with Jackson
Lab's 2010 use of my painting image! Before this I had a short beach chair with a
broken arm. We are starting all over again after living in an airstream for years. The book-
case contains my latest painting books so I can read them. In front of my chair is a painting
cabinet. I use it for holding my laptop. I can sit in my chair and paint using a small
little thumbox. Most of the time if I paint inside, I work up at a table. Robert has the other
half of the family room which has his things! No painting stuff.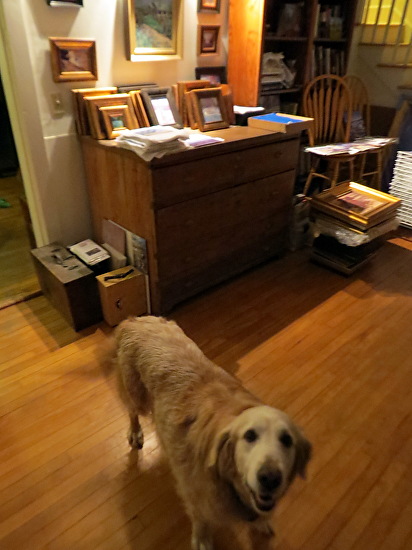 Daisy had to be in the photo! Here in the background is a chest of drawers with a copper top.
I put all my paints, brushes, and mediums in the second drawer. The copper top looks great when
I show people my copper paintings! I put my small paintings in boxes stored here. I have pieces
of craft felt (material) in between each painting to protect them. This is where I show people most
of my small paintings. I can show them over a hundred small paintings in just a few minutes.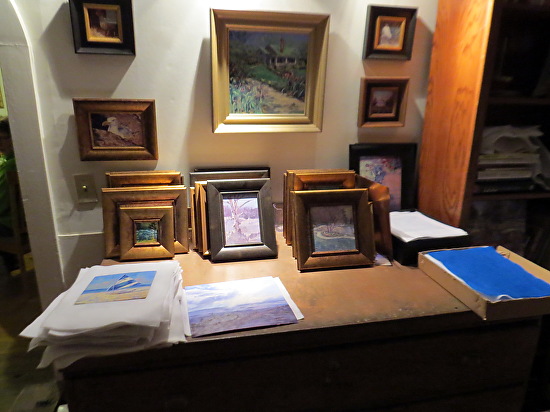 Here is a closer look at this important area of my art gallery.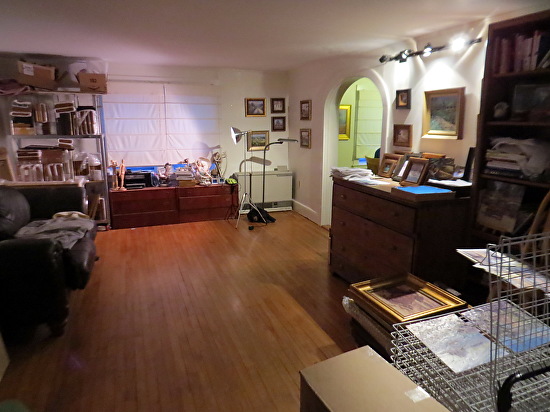 My art gallery is a large room. I need to work on gallery lighting. Hopefully this
year I can afford this. Duke sleeps on the brown leather couch on the left. Sometimes
clients will pull out a dog stuffed animal they have sat on! I did have a beautiful red wool
rug here. But Duke was sprayed by a skunk and found the rug helpful in removing the
odor.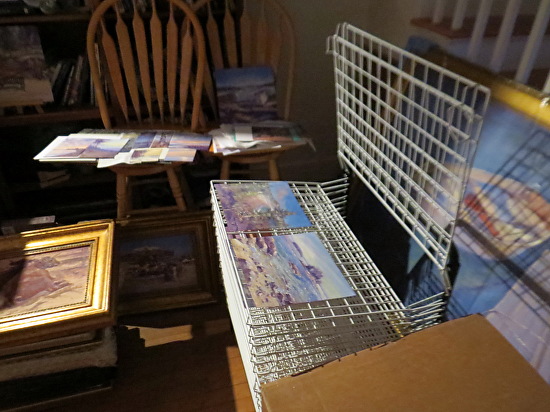 Here is a painting drying rack I purchased this year. When you paint small paintings
almost everyday, you need a drying rack! It looks like I am still not utilizing the drying rack the
chair is being used.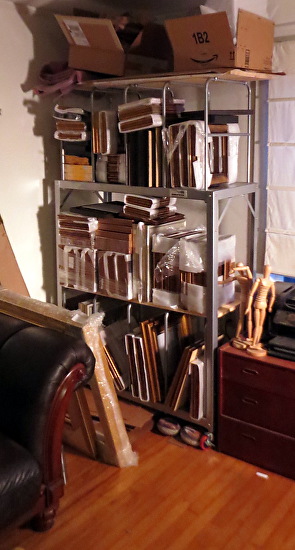 Last year I purchased this rack I use to hold most of my frames. I normally carry at least
75 frames custom ordered in the sizes I prefer to paint. The benefit is free shipping, lower
price on frames, and my clients don't have to wait. But sometimes I still need to order new
frames. This way most of the time my clients can have things framed on the spot. They just
wait 10 minutes and browse more paintings! All frames are organized by size. I carry two or three
styles of frames so there is a little variety.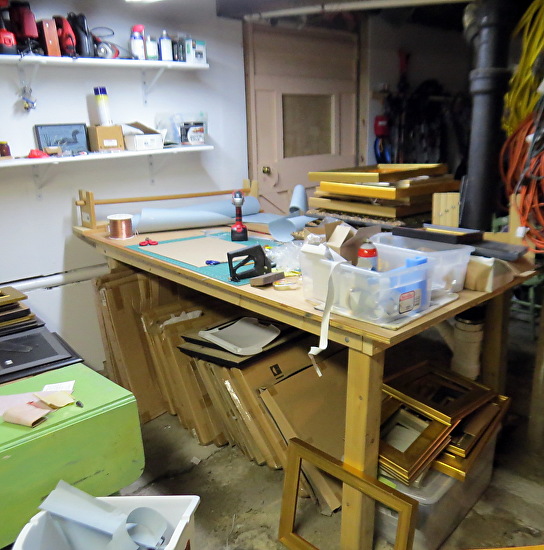 I frame a lot of paintings each year. When you paint small you need to sell a lot to
survive. Here in the basement is the framing area. I have a lot of unuseable
frames right now. I will sell them at a tag sale or toss them. A lot of frames
get destroyed at art shows or in the process of framing! Sometimes I purchase the
wrong style of frame. I think I am over this stage. All my frames right now come
from North Carolina. I use ecofriendly frames made of recycled wood products made in
the USA. That is important to me.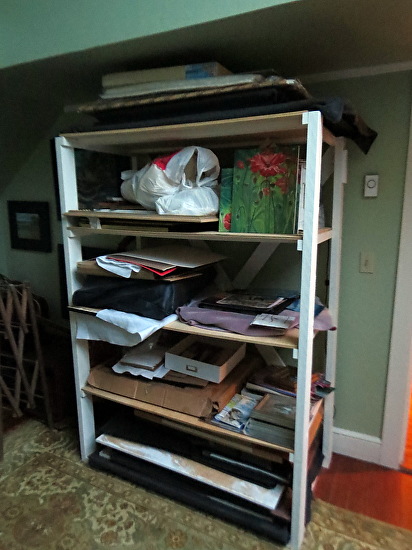 Upstairs is this large rack containing my first large birchwood plein air work. I need to
burn all of these!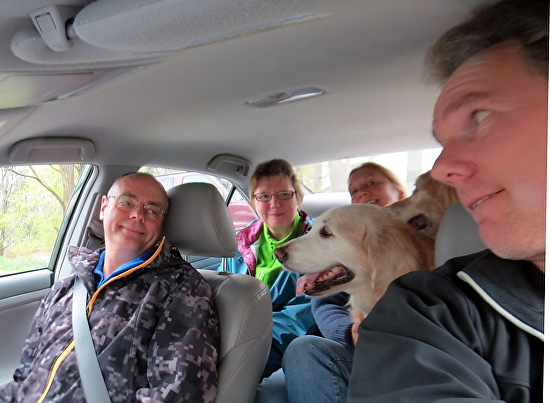 Robert's sister and husband from Holland arrived late last night! We have been
really enjoying them. Here we are all squished into my car on the way to the lake! No
fish today.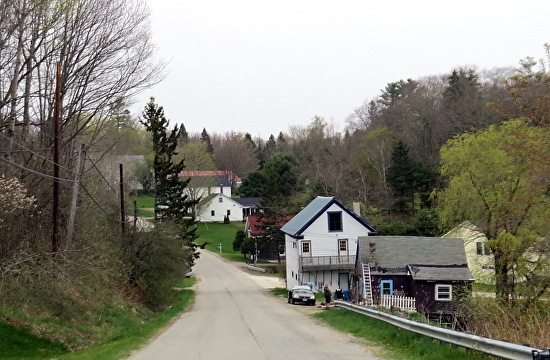 Here is the scene in Sandy Point I painted during the winter time. I thought you might
like to see the Spring day view.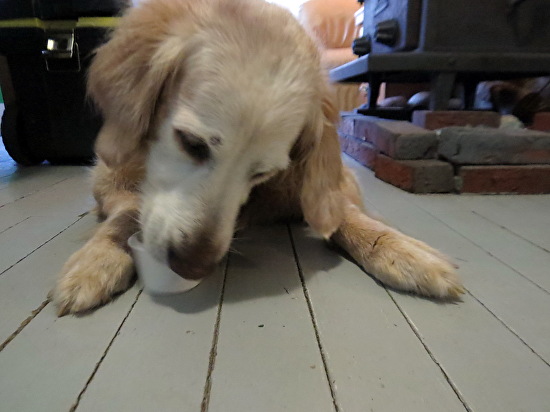 Daisy and Duke enjoyed more Frosty Paws today! It is a beautiful thing to sell paintings.
Thank you! Have a great night! Hopefully this may inspire you to either come to Lammers
Gallery or organize your own studio and gallery! Let's Paint!