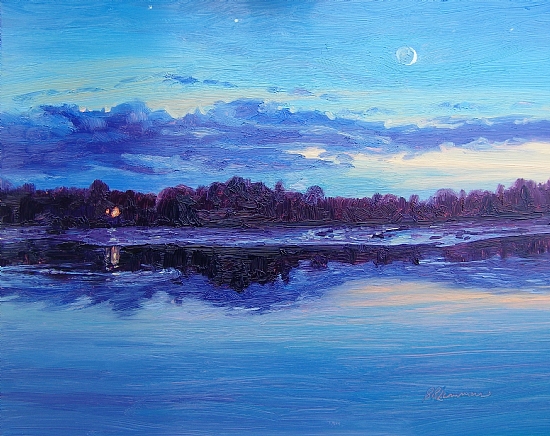 "Moon Over Trenton" 8X10 Oil on Copper 350$ Framed in silver or gold wood or black with a gold inner lip!
This is the painting I did today. I drew out this scene using a photo on my computer monitor and my memory. I changed the moon a little. The moon was horizontal not vertical. The photo I took of the moon just didn't come out at all. I looked at it for a few minutes so I could paint it. I know when a camera just will not capture what I see. I am pleased with how it turned out.
I also worked on yesterday's paintings using my memory. I didn't get any photos of these scenes yesterday. I was too busy painting and forgot to snap a few shots.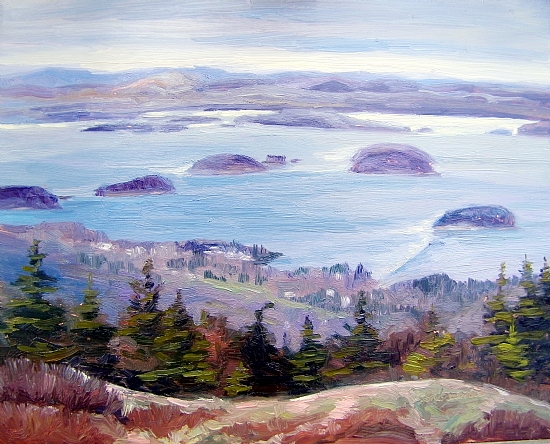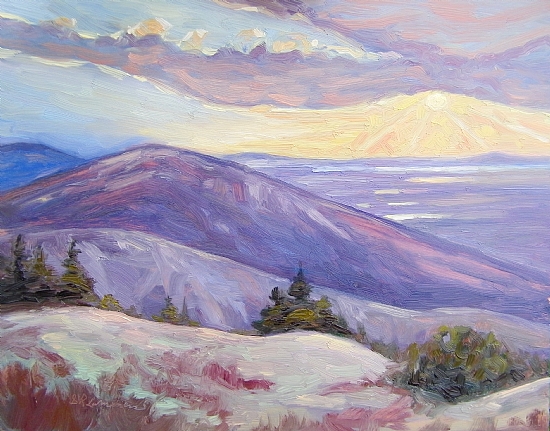 I went to Sears Island with Robert, Daisy, and Duke. We ran around chasing each other acting like fools. I am sure people watching probably thought, "Oh my look at them!". I ran after Duke and captured him. Then he would run after me. Then I picked up a stick and ran with it. Both dogs chased after me. Robert threw the stick into the ocean for Duke to retrieve. Daisy preferred to sit on the beach and chew on her stick. It was cold out!
I am reading a book called "Frederick Church" by John K. Howat. Church visited Mount Desert Island in 1850 and on. His magnificent paintings of sunsets on the island were part of the reason in his lifetime, he was considered the chief artistic discoverer and canonizer of Maine. Church's party of people accompaning him were called the "Tracy party". Church played the piano, sang songs, led exhausting hikes, told stories, fished for their food, and cooked for them. One of the members of the Tracy party, Johnson, wrote about these days thirty years later. He wrote, "So carefully planned and well selected a party could not fail to be a success, and in fact, its members that remain still look fondly back to the Mt. Desert expedition as the happiest frolic of their lives...When the summer was ended by a grand ball, given by the party to all the inhabitants of Bar Harbor in a barn, with decorations by Church, jokes by Winthrop, and dancing by everybody, the island thought that nothing half so "splendid" had ever happened to it before."
A friend of Church, Charles Tracy planned one of these trips to Mount Desert Island. He even went so far as to have a piano sent to Mt. Desert from New York for entertainment of the guests. The large party of 30 people, stayed in the houses of several farmers. There were no Summer boarders at this time. They sent vegetable seeds ahead to be planted. Church made a great hit with his caricatures of the individuals of the Tracy party.
Church named a lake on Mount Desert Island after all of the eagles soaring over it daily. Still to this day, Eagle Lake has retained this name.
I hope you have a great day tomorrow! Get out and paint!