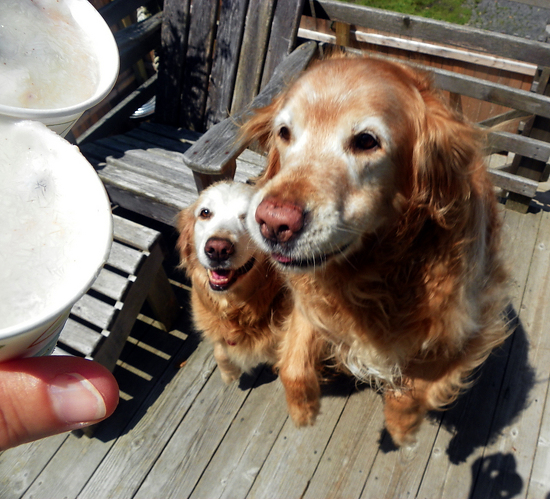 Here is Daisy and Duke getting ready to have some frozen yogurt in celebration of all the painting sales at the Bar Harbor Art Show! Yippee Duke on the right is saying!


I received my new book, "Impressionist Summers-Frank W. Benson's North Haven" by Faith Bedford. Here is Frank W. Benson painting "Mother and Children" a portrait of his family on an island near Rockland, Maine called North Haven. He is well known for these sun-dappled shimmering paintings finished on New Haven. Frank Benson was one of the first American Impressionists and member of an artist group called The Ten. Wooster Farm, located on North Haven, is where Frank and his family spent many Summers. He was a watercolorist, painting over 500 watercolors, oil painter, and print maker.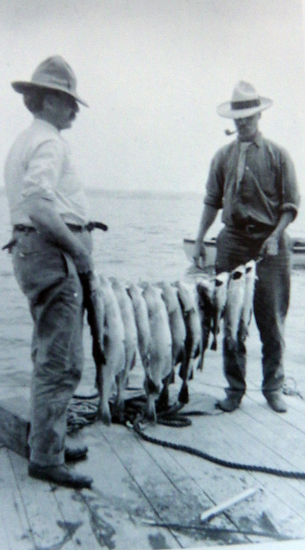 Willard Metcalf, another excellent painter, visited Frank Benson on North Haven.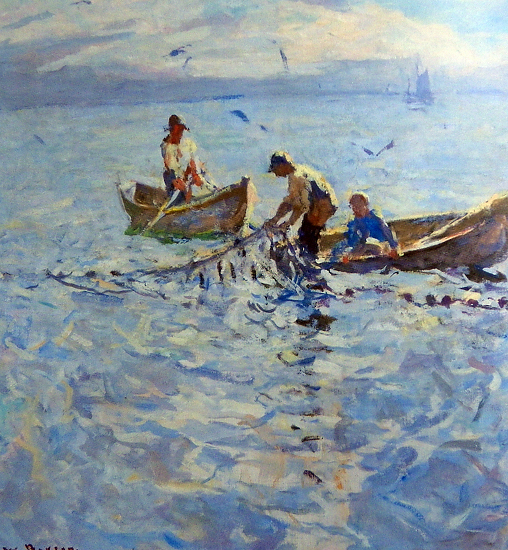 I was very impressed with Frank Benson's oil painting, "Dory Fisherman" 25x30. Benson's family believed this is a painting of the artist and his son with a caretaker. I just love the way he painted the water.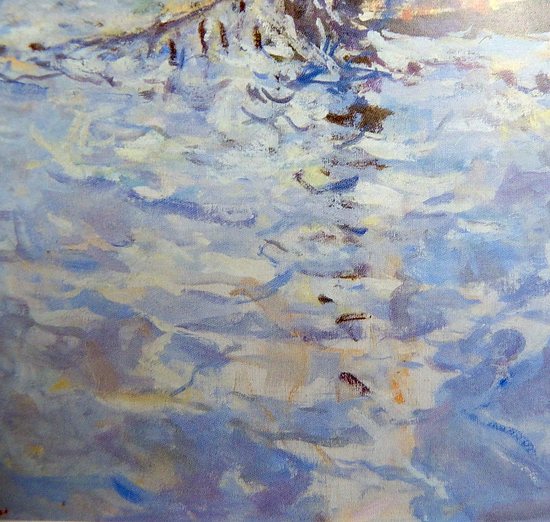 Here is a close up of the water. Warm colors and cool colors in a painterly fashion! Here are a few quotes made by Frank Benson:
"People in general have a sense of beauty and know when things are right. And design is the only thing that matters."


When a friend wrote to congratulate him on all his medals, he wrote this:

"One never gets tired of things like that chiefly because they call forth letters like yours from the people who care for you and are glad when you get one."

"The two crows, Jim and Anna, taken from a nest...in June are a nuisance. They ate most of our strawberries," he grumbled, "and pulled up what plants they could. Next year we shall try to get along without them." "Chip the robin lived in and out of the house for a month and then left to our regret."

Advice on painting to his daughter, "At all times observe minutely the delicate variations of value between one thing and another or between the light and shadow. Do not paint the figure...Paint the light and shade and interrelating values of the whole thing." "You must be entirely absorbed the the light and shade...Don't paint anything but the effect of light."

"A picture is merely an experiment in design. If the design is pleasing, the picture is good. Few appreciate that what makes them admire a picture is the design made by the painter. A picture is good or bad as its composition is good or bad.
" I simply follow the light, where it comes from, and where it goes."


Have a good evening! I hope you enjoyed this whether you are a painter or not! Let's paint!