Show Blog Widgets
December 9, 2012 Day 13 Captain Ziggy's Sailboat Painting in Negril, Jamaica!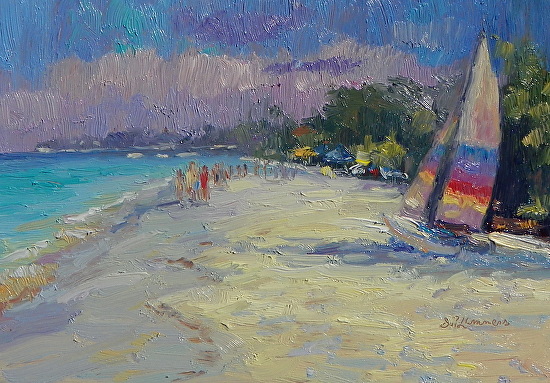 "Jamaican Morning" 5x7 oil on copper. private collection.
I had two cups of coffee today sitting up at the counter under the porch. I was waiting for
Candy to materialize. While drinking coffee a Jamaican
guy who was with the coffee and breakfast cook kept me entertained. Jamaicans have very
interesting sayings. "There is more than one reason the sun rises." This had me thinking. I
never know what they mean by saying some of these things.
They almost always have the same agenda. For the Jamaican guy, there are hopes for a
date later. After my first cup of coffee he wanted to take me up into the mountains. I thought
at first he was a guide for a tour of a waterfall or something. I said, "No thanks." I wanted
to paint. After my second cup of coffee he started to talk about the lottery, getting married once
he won the lottery, have a few kids. Then he asked me again, if I wanted to go up to his place
in the mountains. I told him, "No thanks." He said, "You don't have anything to worry about."
I said to him, "It is you who needs to worry! I have had two cups of coffee." I haven't seen a
Jamaican man laugh so hard. Then I went to my room to get my painting equipment. I thought
that would be the end of him. But he was like a mosquito hovering around.
He followed me over to the water and watched me set up my painting equipment.
He sang songs about me painting for hours. He smoked
very strong pot while I painted. A few times I could have sworn I felt dizzy.
It is very difficult to get rid of guys here. It is best not to be rude.
Finally he gave up on me once I told him the life of an artist is a simple one. He said,
"I won't not be your friend just because you don't have any money." I said, "Thanks". Then he left
me alone. Finally!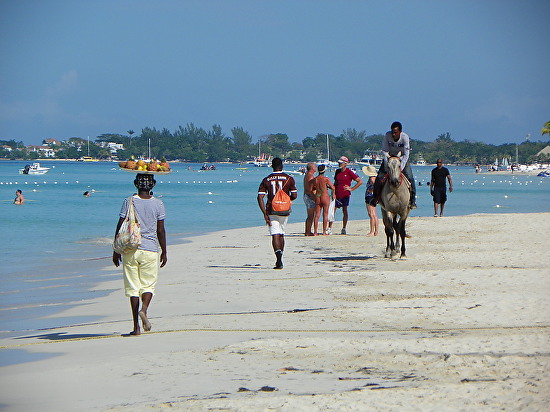 I really like the fruit lady's presentation. Our hotel has it's own fruit lady.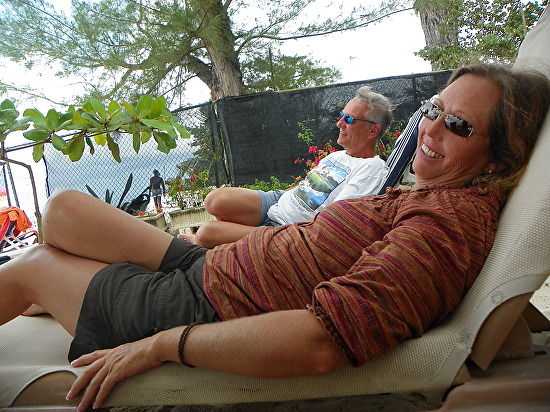 During the heat of the day I either hide in the shade talking with Candy and Ron or we
swim. Some days seem hotter than others. I wish I could handle 86 degrees better. It
forces me to take breaks.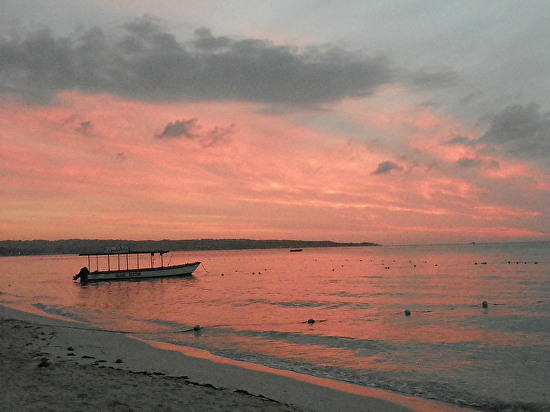 Each sunset is so different. I had my heart set on having curried ginger chicken
with rice for dinner. Once I saw them placing table cloths on the table I was there!
It can take up to an hour for dinner to arrive. Candy and Ron joined me. I don't seem
to be in to staying out late. Right after dinner I pay my bill and walk to my room. They
always stay out very late. Sometimes it is 3:00 am before Candy knocks on the door. I
can't stay out late and paint. I wish I could!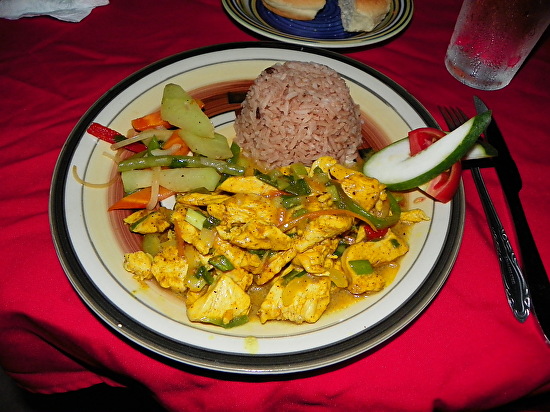 When my dinner did arrive it was very dark. I took a photo with flash so that
I might see my dinner later. It was very good. I hope to find a recipe when I return
home. Robert would love this dish. Daisy and Duke would too! Have a great night! Paint!