Show Blog Widgets
December 4, 2013 Pink and Yellow Flower Bouquet Painting Finished! Monet and Daisy Are Fun!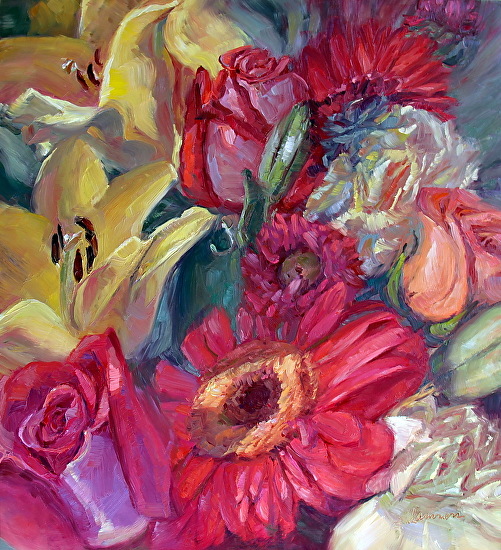 "Bouquet For Monet" 10x10 oil on copper. 650$ framed in black with gold or gold
wood. Shipped free.
I started this painting yesterday at noon and finished at midnight! I am tired
and my arm is sore today! I guess I worked hard on this painting. My eyes
are even scratchy. I must not have blinked enough. I will take a few aspirin
and pick up the brush!
I was very pleased with how this pink rose came out. I feel like
I captured the glow of the light on that petal! I must have worked
for a few hours on just that rose. I use a limited palette of only four
colors so sometimes it makes it more difficult to hit the note. At least
my notes all are harmonious because of this limited palette.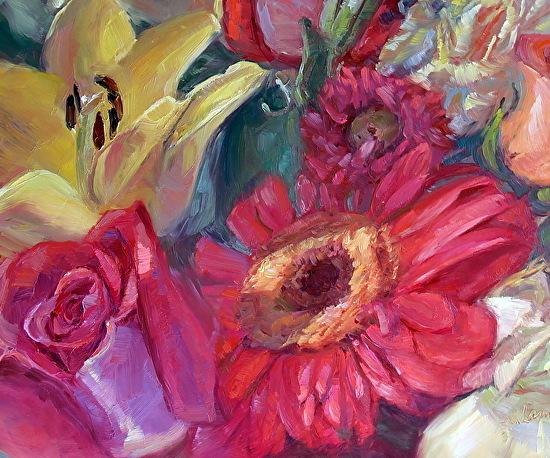 I liked the way the light hit almost all the flowers in just a few spots. Most of the
flowers were in shadow or backlit creating wonderful colors.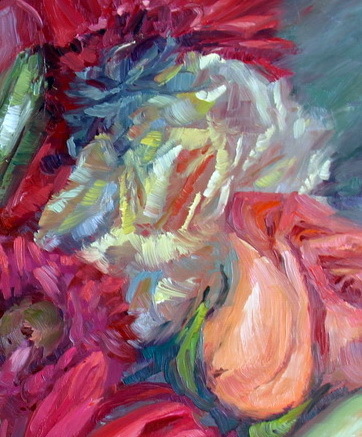 The peach rose had beautiful colors in the shadows and in the
lit areas. That is a yellow carnation in the center. There were
so many color from the surrounding flowers on this yellow
carnation. Fun to paint!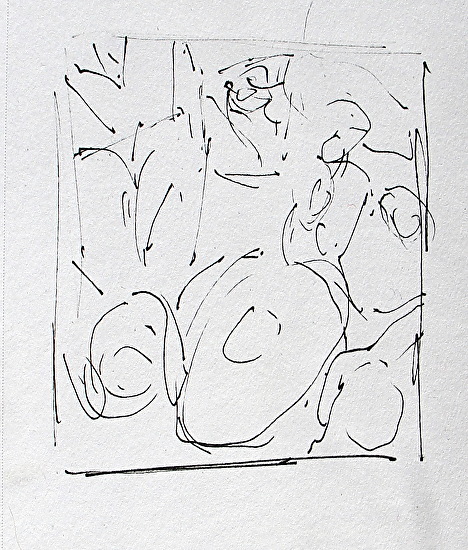 Most of the time I start out sketching a very small sketch. This sketch
is only a few inches. I don't stick with this sketch all the time. It is
just a game plan that can be changed.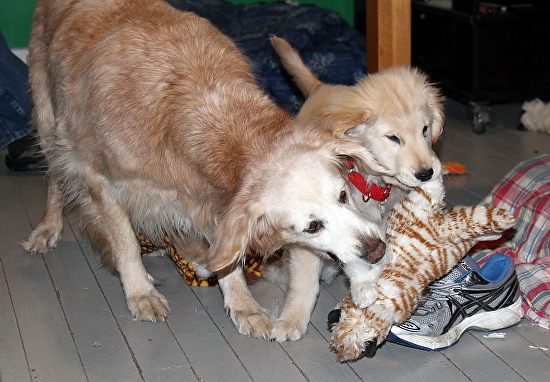 While I was painting Daisy entertained Monet or maybe it was the other way around!
They had toys scattered all over the house. They even played with Robert's old tennis
shoe!
Here is a cute picture of the dogs last week. Monet
weighs 23 pounds now. I can still pick him up! He
loves to be held still...as long as you have a bone or
a carrot to keep his mouth busy! Those teeth are sharp.
Have a great night!